Wow, it's been a LONG time since I have done one of these! I can't believe
Jen
is already on WIAW #172. Yesterday was a pretty healthy day of eating for yours truly, what a shock! The hubby and I are going on our first baby free vacation in August and I am trying to look as svelte as possible. Let's see how long I can keep this up for.
Breakfast -
Tone it Up Protein Pancake
!
I have made these on and off for a year or so. It took me a while to perfect the technique, but I finally got it down. This one has a little fresh strawberry and a honey "driz".
Snack 1 - Wyatt and I were on the run so I quickly chowed down on a couple of handfuls of roasted chickpeas. One huge bag is only $5.99 at Costco, can't go wrong with that!
Lunch - Drank my lunch today, unfortunately it's not a Margarita... but a green smoothie. It had frozen pineapple, almond milk, vanilla protein powder and spinach.
Snack 2 - Mary's & Cheese
While Wyatt was napping I had time to actually prepare something that took more than 2 minutes, woohoo! I slathered some Laughing Cow Light on top of Mary's Crackers. I love those things!
Dinner - Chicken Stir Fry
The hubby makes a mean stir fry! We almost always use chicken and broccoli, but sometimes mix it up with some new veggies. I threw in a little rice because I was really feeling famished. Tonight's stir fry will be rice free... but maybe I'll add some spaghetti squash.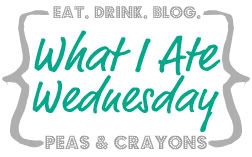 What has been your fave meal so far this week?